The Avenir Official Site
Premium Freehold Luxury Condominium at River Valley
---
Last Updated :
4th June 2023
The Avenir Latest Unit Sold :
#26-07 (1 Bedroom), #22-07 (1 Bedroom), #24-07 (1 Bedroom),
#34-07 (1 Bedroom), #23-02 (1 Bedroom), #20-02 (1 Bedroom),
#22-02 (1 Bedroom), #32-02 (1 Bedroom), #33-02 (1 Bedroom)
---

04-06-23: Our The Avenir Price Chart & The Avenir Balance Unit Chart is now updated and available here.
04-06-23: Get the Best Exclusive Price & Discounts from our Developer Sales Staff, through our The Avenir Contact Form.
Latest Unit Availability: Last 8 Units
1 Bedroom : 8 / 69
2 Bedroom : 0 / 69
3 Bedroom : 0 / 69
3 Bedroom + Private Lift: 0 / 68
4 Bedroom + Private Lift : 0 / 67
4 Bedroom + Family + Private Lift: 0 / 34
02-06-20: In accordance with Government Regulations in the midst of the COVID-19 situation, our showflat will only be accessible by appointment. View our The Avenir Virtual Tour and Make an Appointment to view our actual showflat.
02-02-20: Use our The Avenir Mortgage Calculator to calculate the Downpayment and Monthly Loan Instalment.
---
---
Introduction to The Avenir
The Avenir is a freehold luxurious condominiun, located at River Valley Close, Singapore. Developed by Carmel Development Pte. Ltd., a joint venture of three esteemed developers — Hong Leong Holdings, Guocoland, and Hong Realty — the residents of The Avenir can expect a luxurious living experience in one of the most desirable residential addresses in the city.
The Avenir represents the pinnacle of fine living, where residents can enjoy not only the luxurious amenities but also the prestigious and highly sought-after location. With its meticulous design and exceptional facilities, Avenir Condo stands as a symbol of refined living and sets a new standard for residential excellence.
The Pinnacle of Fine Living
The Avenir Project Info – The Avenir Condo features two striking 35-storey towers, comprising a total of 376 meticulously designed residential units. Renowned architects from ADDP Architects and Studio Milou have created a stunning masterpiece, complemented by landscape consultant Tinderbox, resulting in lavish interiors and exteriors.
Residents can indulge in an array of condominium facilities, including a Tranquillity Garden, Gymnasium, Clubhouse, Concierge Service Counter, a 50m Lap Pool spanning over 500sqm, Tennis Court, BBQ Pavilion, and lush landscaped areas on the ground level. Additionally, the Facilities Deck on the 2nd floor and Sky Terrace offer further relaxation options, such as the Spa Pavilion, Jacuzzi, Herb Garden, Sky Lounge, Solitaire Patio, and City View Corner.
Attractive Price and Floorplan Layout
The Avenir Floor Plan offers a diverse range of floorplan layouts, catering to the needs of singles, couples, and families of all sizes. From 1 Bedroom units to 4 Bedroom + Family + Private Lift units, residents can find their ideal home. The floorplans also offer a choice of desirable facings, including mid-level facilities and pool views, as well as high-floor panoramic city skyline views.
The Avenir Price is very attractive, reflecting the expertise of three experienced developers and their commitment to using premium, high-end fittings and appliances. Residents can expect a top-quality development that befits its prestigious address and freehold status.
Editor's Review: The Avenir combines the expertise of award-winning developers, a desirable location, coveted freehold status, and unparalleled convenience to shopping, dining, and entertainment options. With breathtaking panoramic views of Singapore's skyline, well-designed floorplan layouts, and affordable pricing, this development is poised to become an icon in the River Valley Enclave. It offers an ideal residence for families for generations to come.
Contact Us for Showflat Viewing
Our The Avenir Showflat is available for viewing by appointment (10am – 7pm). Do contact us to make a showflat appointment.
---
The Avenir Location Map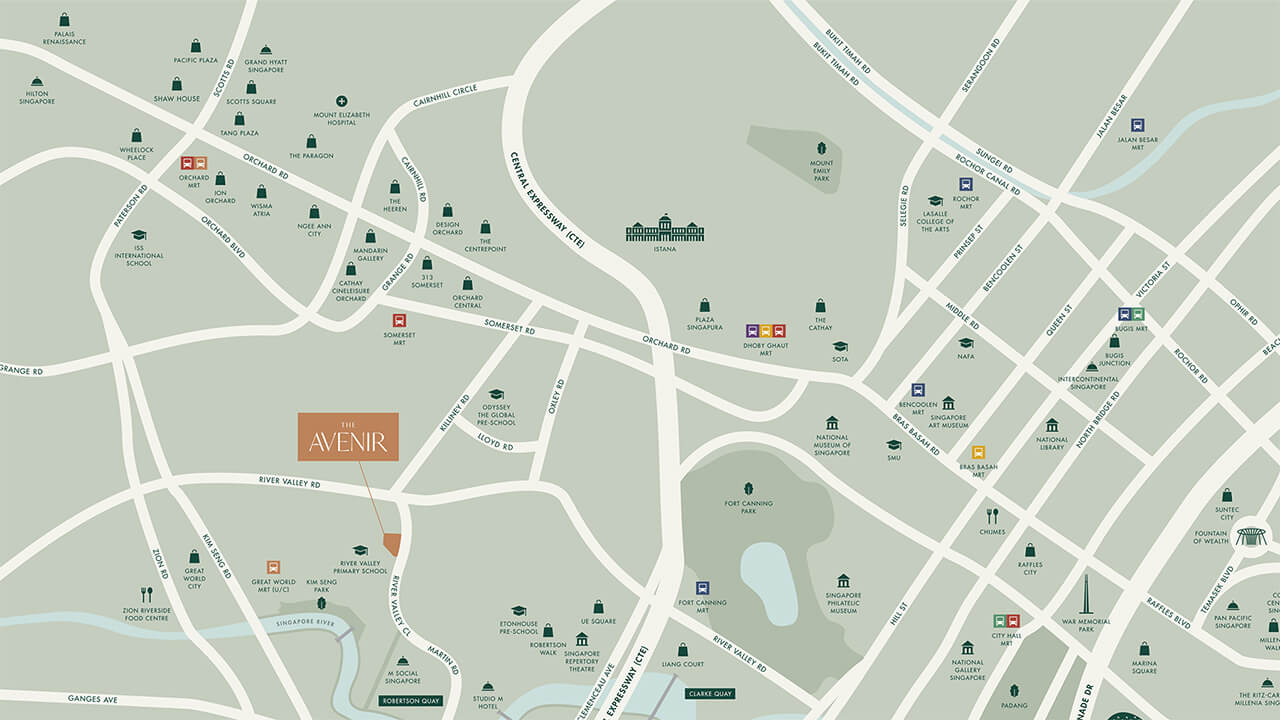 The Avenir benefits from its prime location in the lively city of Singapore, providing residents with easy access to the Orchard Shopping Belt and Dhoby Ghaut, renowned for their shopping and entertainment offerings. Great World City Mall, offering a range of daily amenities, is just a short walk away. Dining and entertainment options abound in the nearby River Valley Road, Clarke Quay, and Mohammed Sultan Enclave.
Despite its proximity to bustling activities, The Avenir Residences also caters to the need for relaxation and tranquility. Fort Canning Park provides a serene green space ideal for leisurely strolls, while the Singapore River offers a scenic exercise park connector trail for running and biking enthusiasts.
Transportation convenience is a highlight of The Avenir Condominium, with Somerset MRT station and the upcoming Great World MRT station (under construction) both within short walking distances. For those who prefer to drive, the nearby Central Expressway (CTE) offers seamless accessibility to all parts of the island.
---
Avenir Condo Project Info
| Project Name: | The Avenir |
| --- | --- |
| District: | 9 |
| Developer: | Carmel Development Pte. Ltd. |
| Address: | 8 - 10 River Valley Close |
| Tenure: | Freehold |
| Site Area: | 12,044.7 sqm / 129,648.07 sqft |
| Type of Development: | Private Condominium |
| No. Of Units: | 376 Residential Units |
| No. of Blocks/Storeys: | 2 Towers of 36-Storey with Basement Carpark and Common Facilities |
| No. Of Carparks: | 376 carpark lots and 4 handicap lots |
| Plot Ratio: | 4.21 |
| Architect: | ADDP Architects LLP / Studio Milou Singapore Pte. Ltd. |
| Landscape Consultant: | Tinderbox Pte. Ltd. |
| Interior Designer: | AXIS ID Pte. Ltd. |
| Structural Engineer: | KCL Consultants Pte. Ltd. |
| M&E: | United Project Consultants Pte. Ltd. |
| Quantity Surveyor: | Arcadis Singapore Pte. Ltd. |
| Facilities: | 50m Lap Pool, Clubhouse, Private Dining Room, Concierge Service Counter, Great Lawn, Sun Deck, Tennis Court, Herbs Garden, Sky Lounge, Cityview Corner |
| Developer Licence: | C1354 |
| Project Account No.: | United Overseas Bank Ltd for Project A/C No. 451-311-229-1 of Carmel Development Pte. Ltd. |
| Expected Date of TOP: | 1-Aug-25 |
| Expected Date of Legal Completion: | 1-Aug-28 |
---
Avenir Condo Price and Discount Promotion
Promotion may end without prior notice. Terms and Conditions apply.
Enquire with us below.


01 May 2023 The Avenir Condo Price and Discount Promotion
---
The Avenir

Proudly Developed By:
---
---